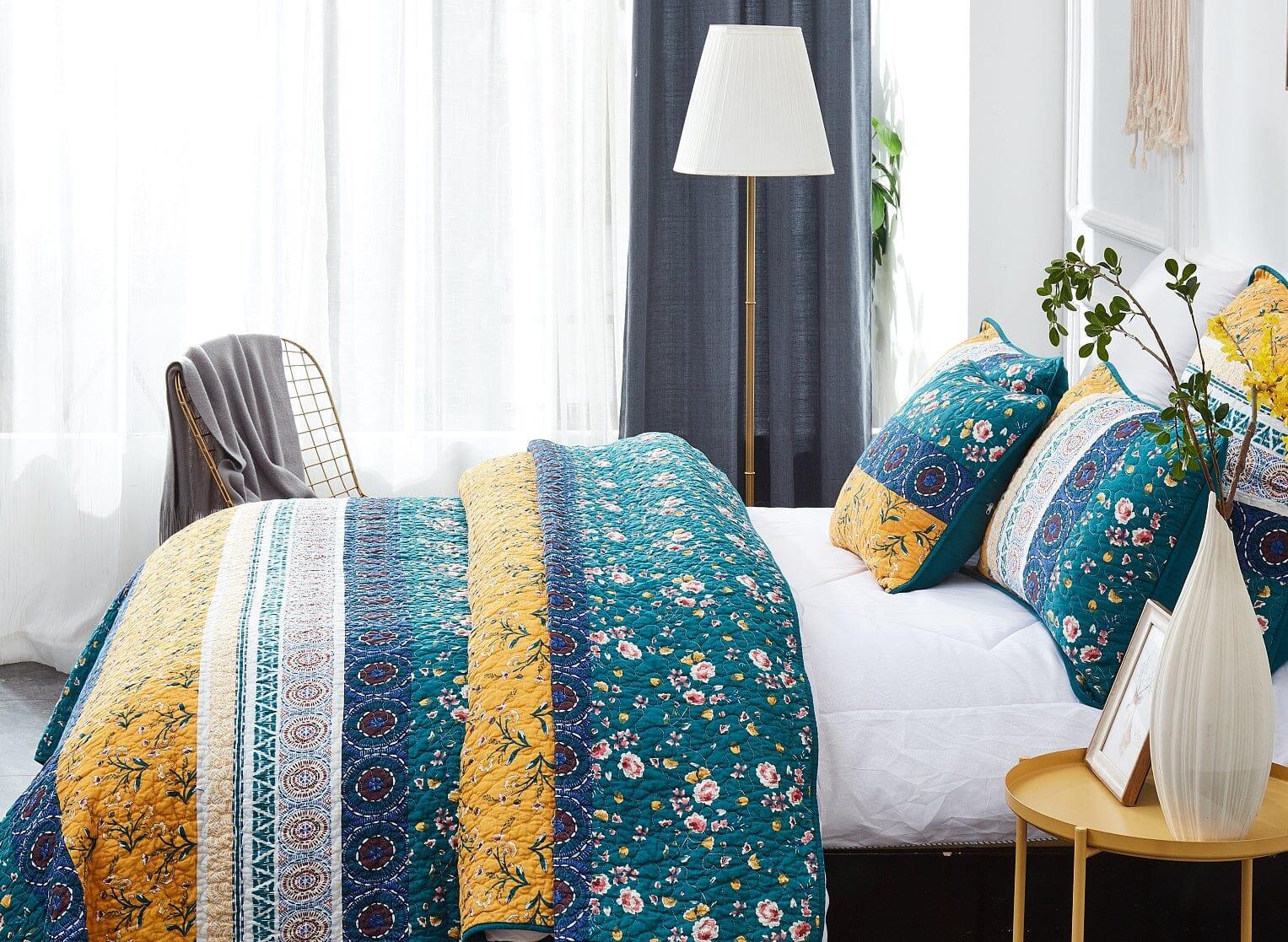 Bedspreads and Quilts VS. Coverlets and Comforters - How different are they?
Ever found yourself lost in the whirlwind of bedding terminology? Scrolling through endless categories and pondering the philosophical differences between "Bedspreads", "Comforters", "Quilts", and "Coverlets"? Wondering why this quest for a simple blanket feels more like an unsolicited language course? Let's shed some light on this, shall we?
Firstly, rest assured (pun intended), they all perform the primary function of cozying up your bed. However, each comes with its special features, suited to different seasons and aesthetic preferences. 
Here's another thing to bear in mind: your bed's characteristics can affect how these bedding types will look and function. You may have a box spring, a mattress topper, a deeper mattress, a high bed platform, or even a bed with longer legs. Each of these factors can change the appearance of your bedding.
For example, a coverlet may take on the role of a bedspread if your bed is relatively low to the ground. Alternatively, if you've got a towering mattress setup or a high bed platform, you might need a larger bedspread or comforter to achieve that flawless, magazine-worthy drape.
Think of it as dressing for your body type. You want your bedding not just to fit, but to compliment your bed's specific structure. So, get out that measuring tape and get acquainted with your bed's dimensions. Your perfectly dressed bed is waiting for you!
Also another friendly reminder as you embark on your bedding adventure: measurements are your best friend. Forget about 'King', 'Queen', 'Twin'. Those are just fancy titles. What truly matters are those numbers followed by 'inches'.
Whether you're considering a bedspread, a comforter, a quilt, or a coverlet, always refer to the exact dimensions in inches to ensure it's a perfect fit for your bed. Because let's face it, there's nothing more frustrating than a bedspread that thinks it's a yoga mat or a coverlet aspiring to be a tent.
Measure your bed and keep these numbers handy while shopping. It's a foolproof way to make sure you're not just bringing home a beautiful blanket, but a beautiful blanket that fits just right!
Time to elevate your bedtime vocabulary!
The all-rounder of the bedding world! If you're unsure about specifics, search for a "Bedspread". It's a term broad enough to include comforters, quilts, and coverlets. They can be lightweight or thick, layered over sheets, and jazzed up with some fancy pillows or throw blankets. Top tip: If your bedspread seems a tad too short, a bed-skirt can save the day. And your décor.
The teddy bears of bed blankets. They're thick and warm, perfect for chilly nights or if you're perpetually cold (we all know someone). Comforters come pre-filled with materials like polyester, microfiber, or down feathers. The filling is evenly distributed and stitched securely to prevent those awkward lumpy situations. Comforters can flaunt a range of colors, patterns, and materials. They sit pretty on your sheets but don't mind being layered over another bedspread. They're sociable like that.
The boho-chic cousin of comforters. Generally sporting patchwork designs, they can bring a vibrant, vintage touch to your decor. They are lightweight, perfect for spring and summer. You can use them as throws, table cloths, or even as superhero capes. No judgment here. But, remember, quilts love to be the center of attention. Let them shine!
The final touch. Think of them as the cherry on top of your bedding sundae. They're thin, lightweight, and perfect to layer over a comforter or bedspread. They can also stand alone for a minimalistic aesthetic. A coverlet is like that versatile piece of clothing that goes with everything in your wardrobe.
Remember, the perfect bed blanket is one that matches your personal comfort preferences and design style. It's like finding your soulmate, but cozier! 💤 #BeddingGuide #DaDaBedding" 
Fun Stats - Did You Know?
Cosy Chameleon: The average person changes their bed sheets every two weeks. That's 26 times a year you could be experiencing the thrill of a new comforter style!

Royal Quilts: The word 'quilt' comes from the Latin 'culcita', meaning 'a stuffed sack'. Even ancient Romans loved a good, fluffy blanket!

Comforter Cornucopia: It's estimated there are over 10,000 styles of comforters globally. If you tried a new style every night, it would take you over 27 years to try them all!

Heavy Sleepers: The heaviest comforter weighs in at around 30 pounds. It's the bedding equivalent of a medium-sized dog!

Blanket Buffet: In an average lifetime, a person spends around 26 years sleeping. That's a lot of time you could be spending in style with the perfect bedspread, quilt, comforter, or coverlet!

Sleeping Under Stars: The world's most expensive bedspread was sold for $6 million and was embroidered with gold and precious stones. Talk about a bed that truly sparkles!
I hope this gives you a better understanding about the differences between Bedspreads, Quilts, Coverlets & Comforters!
Next, we will discuss the differences between.....Duvets, Duvet Covers vs. Fitted Flat Sheets.
- DaDa Bedding Collection
Credits go to: Tachehf.com and Houzz.com